Prioritize and solve crime problems with guidance from community partners, just like the nationally-recognized Newark Public Safety Collaborative (NPSC) does in Newark, NJ. They use Simsi's RTMDx™ software to diagnose crime patterns and connect geographic features with crime events. Then they share this information with multiple stakeholders who coordinate their own resources to intervene by doing what they do best at the places that need them most. Simsi's DICE™ Mentorship Program makes this easy to replicate in any jurisdiction.
For example, when top risk factors for shootings in Atlantic City, NJ were identified as convenience stores, laundromats, and vacant buildings, a risk narrative was formed with consensus among multiple stakeholders. A risk narrative is like a story about the contexts of shooting incidents and how they connect at or around these places. Everyone agreed that most shootings were about turf conflict and drug related. Convenience stores were believed to be locations where drug buyers are solicited because they're open late, it's easy to loiter, and easy to come and go. Laundromats are open 24-hours, coin-operated, and don't have managers on site, so that's where buyers are told to go nearby to make the drug transactions off the street and out of sight. Buyers use the drugs at nearby vacant buildings after purchase, and dealers use vacant properties as stash houses for drugs and weapons.
Data-informed risk narratives such as this empower several agencies to coordinate their efforts and share the burden of crime prevention. Police focused patrols at high-risk places and did business checks at laundromats and convenience stores located there. They also paid attention to nearby vacant properties at peak times. Meanwhile, the City Planning Department prioritized their boarding-up and demolition of vacant properties, and Public Works fixed street lights at these areas.
The DICE™ approach to crime prevention focuses on places, not people. It democratizes data and analytics. Multiple community organizations are empowered to become co-producers of public safety. DICE™ incorporates regular meetings with a large and diverse group of local stakeholders, which includes city officials and police, but mostly others such business owners, non-profit organizations and community groups. They all get access to the same data and analytics, add context to it, then form strategies to disrupt the risk narratives at priority places based on their own unique missions, resources and expertise. Their independent initiatives combine to produce a deliberate and impactful response to crime problems throughout the city as a whole. The result is a comprehensive, dynamic, transparent and effective crime prevention strategy tailored to the local problem. Law enforcement is only one part of the effort.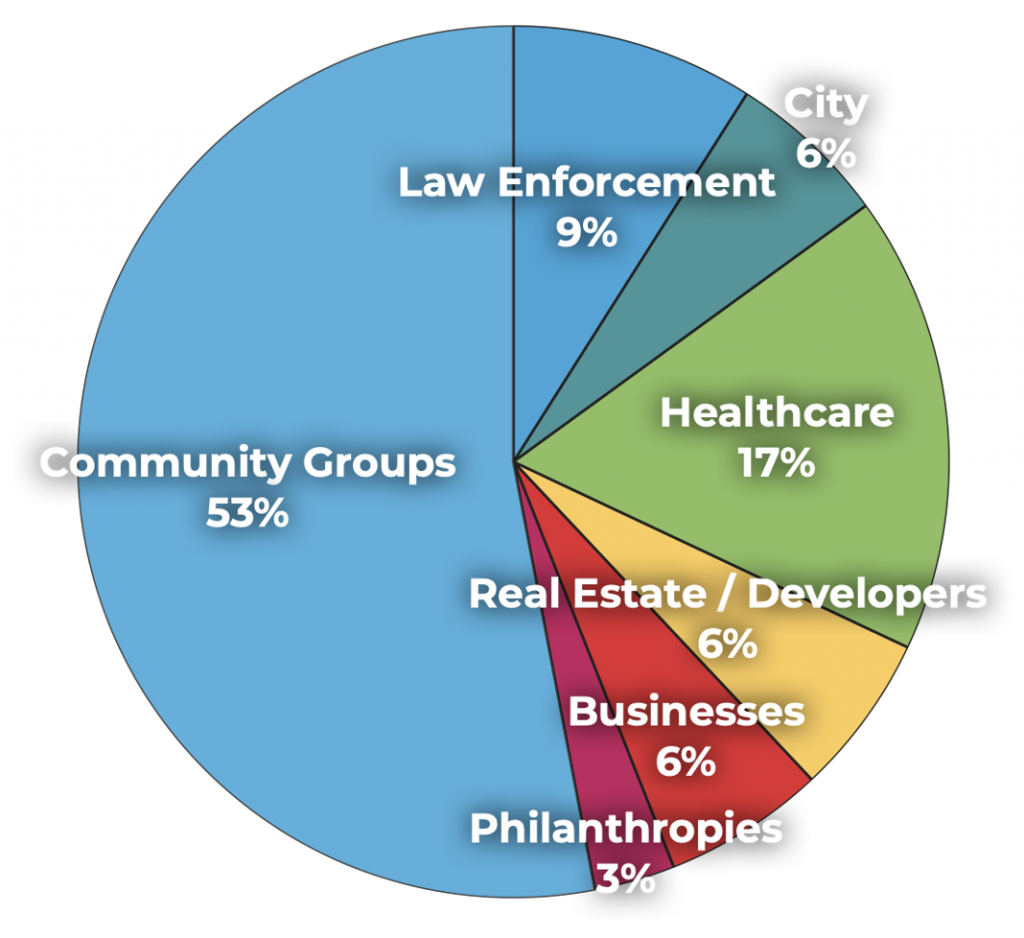 In another example focused on aggravated assault, maps showed high-risk locations to deploy resources, and other information detailed what to focus on when they got there. Police directed patrols to priority places, and other city services addressed abandoned buildings and vacant lots at these locations.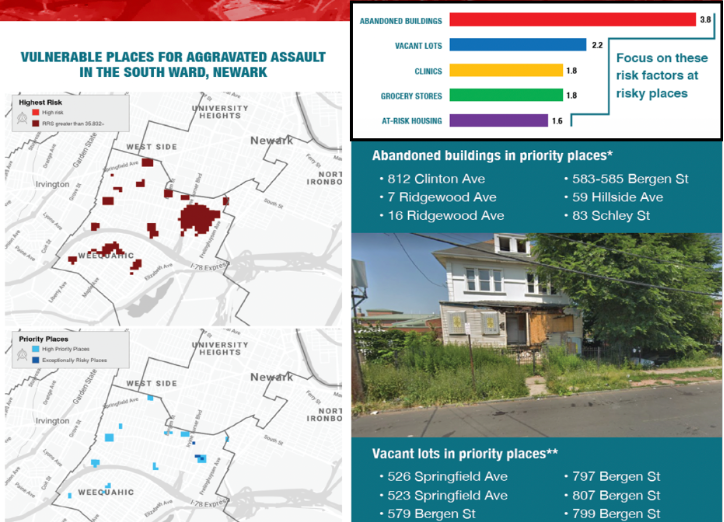 But also, New Community Corporation used this info for their site suitability analysis to purchase and remediate abandoned properties and improve access to affordable housing. The South Ward Children's Alliance and Newark Community Solutions teamed up to adopt city-owned vacant lots in high-risk places and turn them into useable, maintained, spaces with library boxes, stages, murals. The Newark Community Street Team deployed outreach workers to the highest-risk places to help ensure safe passage for children walking to and from schools.
This and other programs using DICE™ have proven to reduce violent and property crimes by as much as 40%. And the impact is long-lasting.
You can do this too, and you probably already have the resources to be successful! What's needed is to differentiate between law enforcement and public safety, and to think differently about crime prevention. It's not about selecting just one strategy. It's about the PROCESS for data sharing and problem-solving with inputs and actions from many stakeholder perspectives. The process is the strategy! DICE™ makes this process of crime prevention and better public safety structured and repeatable.
---