About
Hyper-local analytics with global reach
Focused on places.
We're all about human connections to them.

Powered by Risk Terrain Modeling, our software shows how people interact at particular places and times to create contexts and opportunities for specific behaviors and outcomes, such as crime.
Exclusively partnered with Rutgers University for Risk Terrain Modeling (RTM). We are the sole source for RTM software. RTM has a proven track record with successful outcomes that reflect community priorities.
Years of science backing it
Years of new research advancing it
Research studies published with it
Humans have made places part of our identity.

Places, like humans, can change. They can be restored or rehabilitated. They can be made safer. They can be strengthened.

Simsi's software empowers people to solve problems, prevent crime, and enhance public safety. Actionable analytics inform decisions about where to go and what to focus on when you get there.

Our approach adds context to data, invites multiple perspectives, and makes your actions effective and sustainable.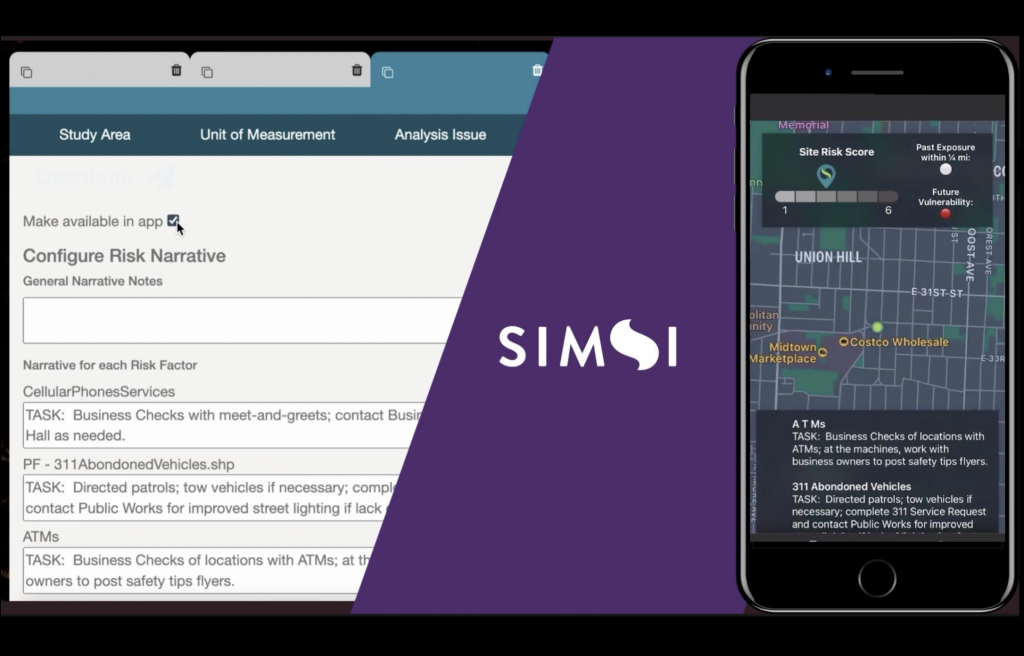 We help you hit-the-ground-running. You get personalized training, service and support to build your confidence in running analyses and discussing results, all at your pace.

It's all included!

We're committed to supporting your work while YOU get the credit for success.
Joel Caplan
Chief Operating Officer
A co-founder, Joel oversees the company's business strategies and operations, including planning, development, sales, training, professional services, and communications.
Julius Parishy
Chief Technology Officer
A co-founder, Julius leads software engineering, development, design, and security for all products and features.
Leslie Kennedy
Executive Vice President
A co-founder, Les leads scientific collaborations, fellowships, and consulting partners. He develops key goals and identifies business opportunities to maximize company performance.
Adriana Santos
Director of Client Accounts & Services
Adriana overseas the operational aspects of on-boarding and supporting new and existing clients, leads technical support, supervises the RTM Analyst team, and ensures client success.
Andrew Horn
Director of Growth
Andy oversees all business growth strategies and sales operations, leads the sales team, supports marketing efforts, and works with all departments to ensure service agreements are met.
Take problem analysis to the next level. Ready?